Thrissur Pooram is a tradition that is being carried out for over 200 years. This radiant festival was started by Sakthan Thampuran (former Kochi ruler).
This festival comers in the Malayalam Masam ( Malayalam month) of Medam (April-May) & is renowned as the mother of all poorams.
This giant phenomenon happens in the heart of Thrissur at Vadakkumnathan temple near to Thekkinkadu Maidanam (Thekkinkadu ground) every year.
The secular nature of the pooram is the main attraction.
The pooram is between 2 groups representing two geographic divisions of-
They both will compete against each other with their respective-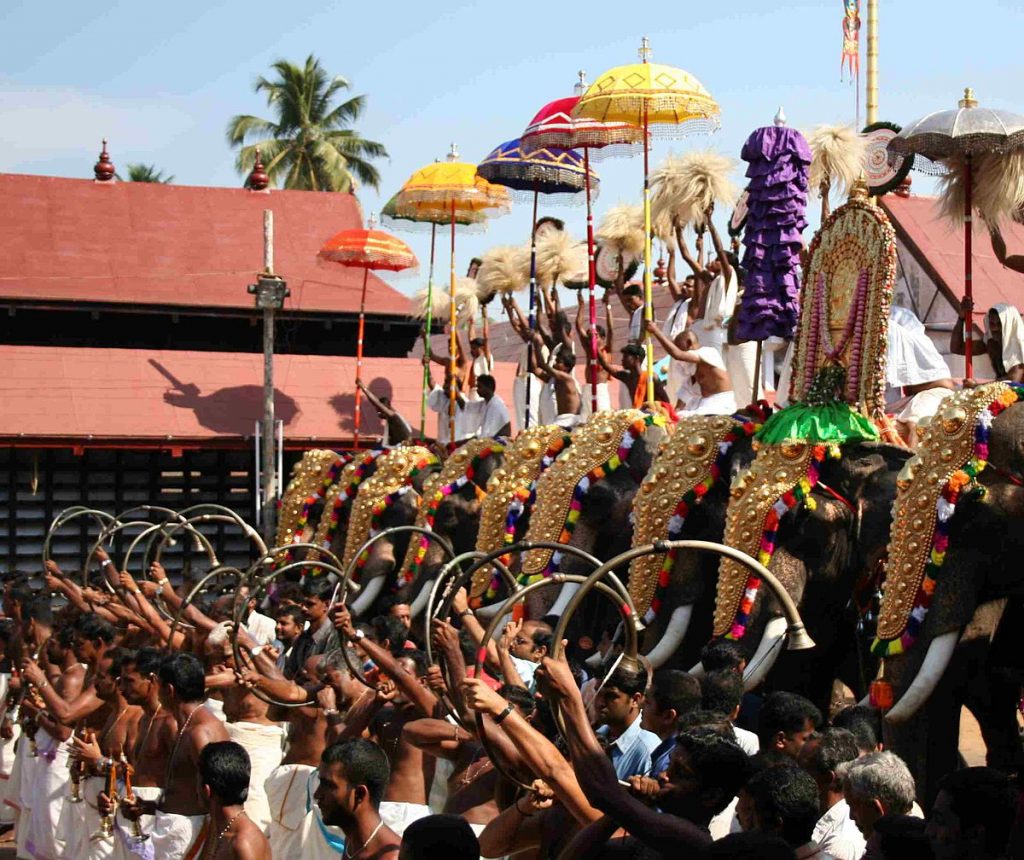 Kudamattom (sequined parasols)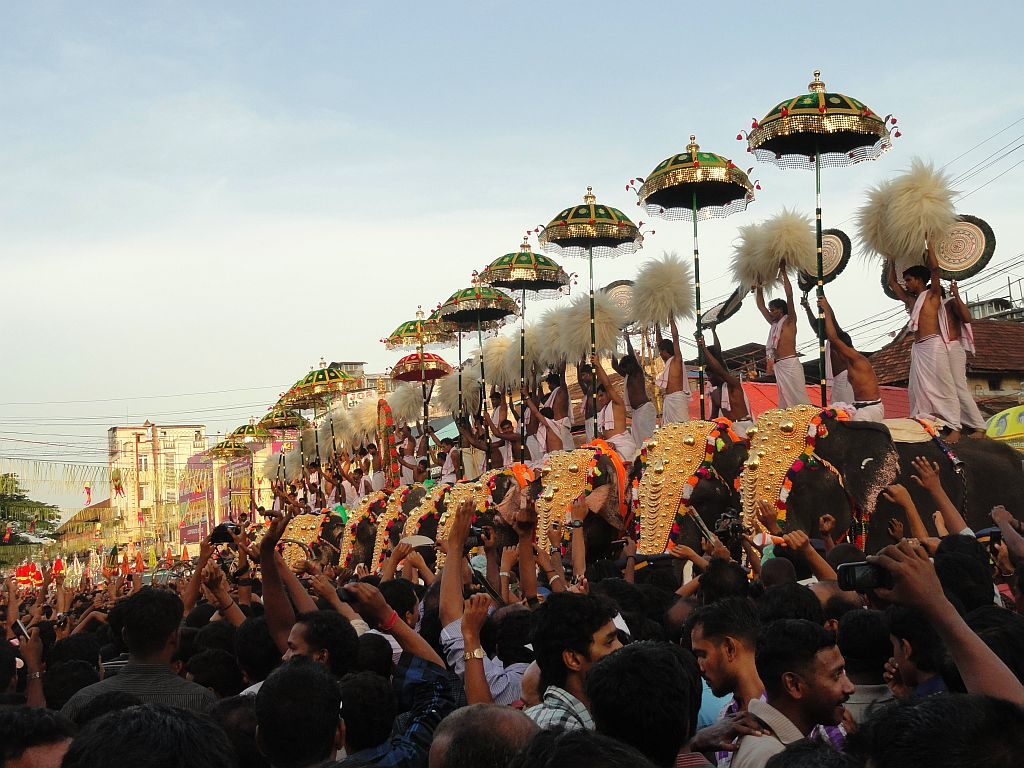 In this festival 5 temples are participated from each side. –
From the western group ( i.e Thiruvambady side)
Thiruvambadi
Kanimangalam
Laloor
Sree Karthyayani
Nethilakkavu
The eastern group ( i.e Paramekkavu side)-
Paramekkavu
Chembukkavu
Panamukkumpally
Choorakkottukavu
Pookattikkara
Thrissur pooram starts at the time of Kanimangalam sasthavu ezhunnellippu in the early morning followed by the ezhunnellippu of other six temples.
After that, the most significant event of Thrissur Pooram takes place the great "Madathil varavu", a panchavadhyam melam in which over 200 artists take part in this using the musical instruments like thimila, madhalam, trumpet, cymbals, and edakka.
And, at 2:00, starts the great Ilanjithara melam inside the Vadakkumnathan Temple, drums, trumpets, pipe, and cymbal are used in this.
50 Elephants are decorated with nettipattams (decorative golden headdress), strikingly crafted Kolam, decorative bells, & all glittering ornaments.
After Ilanjithara melam, the 2 divisions i.e the Paramekkavu and Thiruvambadi groups enter the temple via western gate, & comes out through the southern gate & them assemble themselves face to face in distant places.
The two groups then competitively exchange the colorfully crafted umbrellas at the top of the elephants, called Kudamattom, in the presence of melam.
And, Later all the poorams is concluded at Nilapaduthara (near the Western Goupuram of Vadakkunnathan Temple).
All other communities actively participate and make their prominent roles in each and every part of the festival. It is a good sign of secularism which is disintegrating nowadays
Event details-
Date: 2019 Thrissur Pooram will begin at on Monday, 13 May and ends at 7:00 pm on Tuesday, 14 May
Venue: Thekkinkadu Maidanam
Location: Thrissur
District: Thrissur
How to get there-
Nearest railway station: Thrissur, about a kilometer away.
Nearest airport: Cochin International Airport 58 km from Thrissur.
Summary
Reviewer
Review Date
Reviewed Item
The Great Thrissur Pooram blog by Krishna Inn
Author Rating